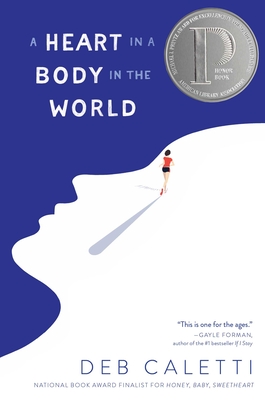 Parnassus Books is thrilled to welcome National Book Award finalist Deb Caletti for a discussion and signing of her critically acclaimed new novel, A Heart in a Body in the World. Read on for important event guidelines as well as more information about the author and her book!
Event Guidelines
This event is free and open to the public. To join the signing line and have books signed by the author at this event, please purchase your copy of A Heart in a Body in the World from Parnassus Books, either in-store, over the phone, or online (scroll down). The book will be published on Tuesday, September 18 (the day of the event). By purchasing a book from Parnassus, you are not only supporting a locally owned, independent business, but you are also showing publishers that they should continue sending authors to Parnassus.
Video recording, audio recording, and/or live-streaming during author appearances and signings is not possible without prior written permission from the publisher and Parnassus Books.
Can't make it to the event, but still want to purchase an autographed or personalized book? Place your order below, enter "signed copy" plus any personalization details in the comments section of your order, and we'll have the author sign your books and ship them to you after the event!
More about A Heart in a Body in the World
"The title of Deb Caletti's masterful new book is apt. You feel your own heart expanding in your chest as you come to understand just why Annabelle is running. This novel is full of sorrow and rage, but also beauty and hope and so, so much wisdom. Annabelle's story will resonate deeply with so many women that it's tempting to call it a novel of the time. But really, this is one for the ages." -- New York Times bestselling author Gayle Forman
When everything has been taken from you, what else is there to do but run?
So that's what Annabelle does. She runs from Seattle to Washington, DC, through mountain passes and suburban landscapes, from long lonely roads to college towns. She's not ready to think about the why yet, just the how: muscles burning, heart pumping, feet pounding the earth. But no matter how hard she tries, she can't outrun the tragedy from the past year, or the person -- The Taker -- that haunts her.
Followed by Grandpa Ed in his RV and backed by her brother and two friends (her self-appointed publicity team), Annabelle becomes a reluctant activist as people connect her journey to the trauma from her past. Her cross-country run gains media attention and she is cheered on as she crosses state borders, and is even thrown a block party and given gifts. The support would be nice, if Annabelle could escape the guilt and the shame from what happened back home. They say it isn't her fault, but she can't feel the truth of that.
Through welcome and unwelcome distractions, she just keeps running, to the destination that awaits her. There, she'll finally face what lies behind her -- the miles and love and loss ... and what is to come.
More about Deb Caletti
Deb Caletti is an award-winning author and National Book Award finalist. Her many books for young adults include Stay; The Nature of Jade; and Honey, Baby, Sweetheart, winner of the Washington State Book Award and the PNBA Best Book Award, and a finalist for the PEN USA Award. Her books for adults include He's Gone and The Secrets She Keeps. She lives with her family in Seattle.
Event date:
Tuesday, September 18, 2018 - 6:30pm
Event address:
Parnassus Books
3900 Hillsboro Pike, Suite 14
Books:

$18.99

ISBN: 9781481415200
Availability: Backordered
Published: Atheneum Books for Young Readers - September 18th, 2018
---