Join us for a Facebook Live event with Heather Montgomery, author of What's In Your Pocket? in conversation with Rebecca Hirsch, author of Night Creatures: Animals That Swoop, Crawl, and Creep While You Sleep.
Wednesday, September 22nd at 6:00 pm Central.
This will be a Facebook Live event from the Parnassus Books Facebook page.
After the live talk has ended, the video will be archived on the Parnassus Books Facebook page under Videos.
About What's In Your Pocket?
Charles Darwin, George Washington Carver, and Jane Goodall were once curious kids with pockets full of treasures!
When you find something strange and wonderful, do you put it in your pocket? Meet nine scientists who, as kids, explored the great outdoors and collected treasures: seedpods, fossils, worms, and more. Observing, sorting, and classifying their finds taught these kids scientific skills--and sometimes led to groundbreaking discoveries. Author Heather Montgomery has all the science flair of a new Bill Nye. Book includes Heather's tips for responsible collecting.
About Heather Montgomery
Heather L. Montgomery is passionate about nature, discovery, and the scientific process. An author and master teacher, she uses curiosity and yuck-appeal to engage young minds. Her many science books include Who Gives a Poop?, Bugs Don't Hug: Six-Legged Parents and Their Kids and Something Rotten: A Fresh Look at Roadkill. Heather has a BS in biology and an MS in environmental education. When she's not writing, she can be found climbing a tree, wading knee-deep in a creek, or collecting natural treasures with kids in beautiful Alabama.
About Night Creatures
As the sun sets, night creatures awaken. In their rural backyard, a parent and child camp out, watching as fireflies flicker, bats flap, and rabbits race. Atmospheric illustrations bring the nocturnal world to life in this lyrical and informative picture book.
About Rebecca Hirsch
Rebecca E. Hirsch, PhD, is the author of numerous books about science, nature, and geography for children. She lives with her husband and three children in State College, Pennsylvania.
Event date:
Wednesday, September 22, 2021 - 6:00pm
Event address:
Virtual event: Parnassus Books Facebook page
Books: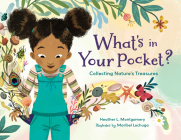 $17.99

ISBN: 9781623541224
Availability: On Our Shelves Now
Published: Charlesbridge Publishing - September 14th, 2021
---

$19.99

ISBN: 9781541581296
Availability: Special Order - Usually Arrives in 1-5 Days
Published: Millbrook Press (Tm) - September 7th, 2021
---