Parnassus Books is pleased to welcome Jerry Park celebrate the release of his new book, Slow Roads America.
This is a free event which will take place IN STORE on Thursday, September 23rd at 6:30pm Central Time. Because space will be limited, registration is required to attend this event. Please register for free by filling out the form below! (Note: If for any reason you need to cancel your registration, please call the store at 615-953-2243 at least 24 hours before the event so your space can be provided to another guest.) Masks will be required during this event.
About the Book
Imagine taking a road trip across this great land, then hopping a flight to Hawaii and Alaska, spending time in every state in the union.
That's what the author of Slow Roads America, Jerry Park, beckons you to do from the comfort of your favorite chair. Many years, road miles, motel nights, and flights in the making, Jerry's book takes you down the back roads that knit this expansive land together in an endless variety of scenery, folk, and story. From a swamp in Florida to the Amish countryside of Pennsylvania to the top of a 10,000 foot volcano in Hawaii to New England in the fall to a canyon in Arizona to a Kansas prairie, you're coming along for the ride.
Through his rich, color photographs and engaging short stories inspired by a handful of the images, Jerry gives you a fresh and pleasurable look at ordinary scenes and stories that capture the imagination and maybe cause you to wonder about some things. Jerry stays away from the celebrated icons of the USA that have already been photographed for ages and instead looks for the extraordinary view of things we may drive by every day and never really see.
About Jerry Park
A Southerner, born and raised, Jerry is a writer and photographer whose work demonstrates emphatically how deeply his roots have been imprinted upon his soul. Educated at Wofford College and UNC at Chapel Hill, Jerry built careers at Xerox, in the Christian music world, and in book and Bible publishing, finishing each in executive positions. His photography is exhibited in Nashville at Chauvet Art Gallery. His work is collected by several commercial clients and has been published in books, magazines, and newspapers. Jerry published his first book, Slow Roads Tennessee, in October, 2015. It became a best seller across the state during that fall. Jerry's second book, A Tennessee Portrait, was released in October, 2018. His newest project, Slow Roads America, kept him traveling along the back roads of every state for many years. It will be published in September, 2021. All of Jerry's books are filled with photographs and short stories. He can be contacted through his website, jerryparkphotography.com, or directly at jerryppark@comcast.net.
Event date:
Thursday, September 23, 2021 - 6:30pm
Event address:
Parnassus Books
3900 Hillsboro Pike Suite 14
Books: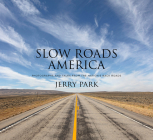 $45.00

ISBN: 9781954437029
Availability: On Our Shelves Now
Published: Clovercroft Publishing - September 7th, 2021
---