A Tennessee Portrait: Photographs and Stories from Roads Less Traveled (Hardcover)
Book listings on our website do not always reflect the current availability of books on our store shelves. Check a book's in-store availability beneath the "add to cart" button. Or to be certain that a book you've found on our website is also here on our shelves, feel free to call us at 615-953-2243.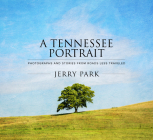 Description
---
In A Tennessee Portrait, bestselling author Jerry Park returns with camera and pen to the meandering back roads of the state where his first book, Slow Roads Tennessee, was birthed.
Captured through a variety of cameras, Park offers a fresh perspective on timeless scenes. Photographs of farmland, forests, creeks, and small towns fill the pages, together with a handful of the quirky, funny things you might just spy along the side of the road.
As in Slow Roads Tennessee, Park has woven tales inspired by some of these images; short stories meant to spark your imagination and increase your sense of wonder at the scenery right outside your own window. With 121 photographs, including at least one from each of Tennessee's 95 counties, as well as 12 short stories, and three poems, A Tennessee Portrait casts a long, warm glance at the past, present, and future of this beautiful state.
Two years and over 10,000 wandering miles in the making, A Tennessee Portrait offers a unique combination of image and word to anyone who appreciates heritage, beautiful scenery, and a good yarn.