Uncle Holland (Hardcover)
Book listings on our website do not always reflect the current availability of books on our store shelves. Check a book's in-store availability beneath the "add to cart" button. Or to be certain that a book you've found on our website is also here on our shelves, feel free to call us at 615-953-2243.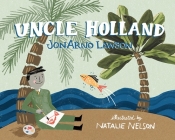 $17.95
Usually Ships in 1-5 Days
Description
---
When Holland is arrested for the thirty-seventh time for stealing beautiful things, he must make a very difficult decision. A police officer says that he must either go to jail or become a soldier. He chooses to join the army and is sent south, where he finds himself surrounded by beautiful things: palm trees, parrots, flowers and big blue waves...and fish Holland starts painting pictures of the fish, which he sells at the market on the weekend. Soon, he has money to send home to his parents. They are worried that he's gone back to his stealing ways, so his father writes to ask if he earned the money honestly. Holland writes back to reassure him that he has decided to paint instead of steal because "not everything that's pretty can be stuffed in your pockets " Based on a true story about JonArno Lawson's uncle, and accompanied by Natalie Nelson's collage illustrations, this quirky picture book is about making choices - and art.
About the Author
---
JonArno Lawson's acclaimed picture book Sidewalk Flowers won the Governor General's Literary Award. He is a four-time winner of the Lion and the Unicorn Award for Excellence in North American Children's Poetry. He is the author of numerous books for children and adults. He lives in Toronto with his wife and three children. Natalie Nelson's illustrations have appeared in many publications, including the New York Times and the Washington Post. She is the illustrator of The King of the Birds, a picture book written by Acree Graham Macam. She lives in Atlanta, Georgia, with her husband.