Would Everybody Please Stop?: Reflections on Life and Other Bad Ideas (Compact Disc)
Book listings on our website do not always reflect the current availability of books on our store shelves. Check a book's in-store availability beneath the "add to cart" button. Or to be certain that a book you've found on our website is also here on our shelves, feel free to call us at 615-953-2243.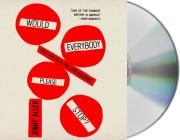 Description
---
"One of the funniest writers in America."
That's what The New Yorker's Andy Borowitz calls Jenny Allen--and with good reason. In her debut essay collection, the longtime humorist and performer declares no subject too sacred, no boundary impassable.
With her eagle eye for the absurd and hilarious, Allen reports from the potholes midway through life's journey. One moment she's flirting shamelessly--and unsuccessfully--with a younger man at a wedding; the next she's stumbling upon X-rated images on her daughter's computer. She ponders the connection between her ex-husband's questions about the location of their silverware, and the divorce that came a year later. While undergoing chemotherapy, she experiments with being a "wig person." And she considers those perplexing questions that we never pause to ask: Why do people say "It is what it is"? What's the point of fat-free half-and-half ? And haven't we heard enough about memes?
Jenny Allen's musings range fluidly from the personal to the philosophical. She writes with the familiarity of someone telling a dinner party anecdote, forgoing decorum for candor and comedy. To listen to Would Everybody Please Stop? is to experience life with imaginative and incisive humor.
About the Author
---
Jenny Allen is a performer and the author of Would Everybody Please Stop?: Reflections on Life and Other Bad Ideas. Her essays and articles have appeared for years in many magazines, including The New Yorker, The New York Times, New York, Vogue, Esquire, More, The Huffington Post, and Good Housekeeping. Recent essays appear in Andy Borowitz's anthology The Fifty Funniest American Writers and in In the Fullness of Time: 32 Women on Life After 50.