A Little Princess (Compact Disc)
Book listings on our website do not always reflect the current availability of books on our store shelves. Check a book's in-store availability beneath the "add to cart" button. Or to be certain that a book you've found on our website is also here on our shelves, feel free to call us at 615-953-2243.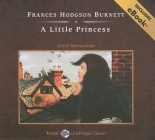 Availability of this title may vary. Please email or call for price.
Description
---
Sara Crewe is a gifted and well-mannered child, and Captain Crewe, her father, is an extraordinarily wealthy man. So Miss Minchin, headmistress of Sara's new boarding school in London, is pleased to treat Sara as her star pupil-a pampered little princess. But one dreadful day, Sara's father dies, and her world suddenly collapses around her. All of her lovely things are taken from her, and she is forbidden to associate with her friends. Miss Minchin can now show her greedy and mean-spirited nature to its fullest. The little princess is reduced to a shabby drudge. But Sara does not break, and with the help of a monkey, an Indian lascar, and the strange, ailing gentleman next door, she not only survives her sufferings but helps those around her.
About the Author
---
English-born novelist Frances Hodgson Burnett was best known for her children's stories, particularly "Little Lord Fauntleroy," "The Secret Garden," and "A Little Princess."

Coming soon...