Shaping the Healthy Community: The Nashville Plan (Hardcover)
Book listings on our website do not always reflect the current availability of books on our store shelves. Check a book's in-store availability beneath the "add to cart" button. Or to be certain that a book you've found on our website is also here on our shelves, feel free to call us at 615-953-2243.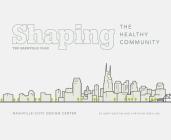 $55.00
Usually Ships in 1-5 Days
Description
---
The shape we give to our city, in turn, shapes us. The form that Americans began to give to their cities and suburbs in the years following World War II has molded an increasingly underactive, overweight population subject to a variety of preventable diseases, as well as an environment with degraded air and water quality. Shaping the Healthy Community explores the relationships between the built environment and public health and presents an action plan for a healthier city. The book analyzes Nashville, Tennessee, using the "transect," an urban planning model central to the New Urbanist and smart growth movements. By considering the seven "transect zones"--natural, rural, suburban, urban, downtown, centers, and districts--the book provides a diagnosis of the health-promoting and health-defeating aspects of each. Strategies tailored to each zone focus on six built environment factors that impact health: neighborhood design and development, transportation, walkability and pedestrian safety, food resources, housing, and open space and parks. Individual chapters include case studies of specific neighborhoods, contributions by experts, infographics, site photographs, and detailed before-and-after visualizations. Shaping the Healthy Community presents real-world facts, policy recommendations, and design strategies to enable health and planning professionals, developers and designers, educators and community organizations to build places in which healthy practices can be part of daily life. Like The Plan of Nashville: Avenues to a Great City, this book is a collaboration of the Nashville Civic Design Center, Vanderbilt University Creative Services, and Vanderbilt University Press.