The Storm Whale (Hardcover)
Book listings on our website do not always reflect the current availability of books on our store shelves. Check a book's in-store availability beneath the "add to cart" button. Or to be certain that a book you've found on our website is also here on our shelves, feel free to call us at 615-953-2243.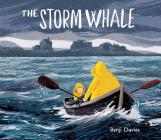 Description
---
Every day, in a house by the sea, a little boy watches his father leave for a long day's work. One night, a great storm washes a small whale onto the beach. The boy discovers the whale is a good listener. The father discovers the boy is lonely. Together, they return the whale to the sea. And from that day on, the boy learns that the father can be a good listener too, in Benji Davies's heartwarming tale, The Storm Whale.
About the Author
---
Benji Davies is an author, illustrator, and animation director. As a child, he was often found painting at the kitchen table . . . a habit he has continued into adulthood. He lives in London with his wife, Nina.