Squeak, Rumble, Whomp! Whomp! Whomp!: A Sonic Adventure (Hardcover)
Book listings on our website do not always reflect the current availability of books on our store shelves. Check a book's in-store availability beneath the "add to cart" button. Or to be certain that a book you've found on our website is also here on our shelves, feel free to call us at 615-953-2243.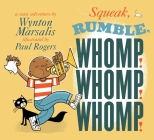 $17.99
Usually Ships in 1-5 Days
Description
---
The creators of Jazz ABZ are back for an encore! With infectious rhythm and rhyme, musical master Wynton Marsalis opens kids' ears to the sounds around us.

What's that sound? The back door squeeeaks open, sounding like a noisy mouse nearby — eeek, eeeek, eeeek! Big trucks on the highway rrrrrrrumble, just as hunger makes a tummy grrrrumble. Ringing with exuberance and auditory delights, this second collaboration by world-renowned jazz musician and composer Wynton Marsalis and acclaimed illustrator Paul Rogers takes readers (and listeners) on a rollicking, clanging, clapping tour through the many sounds that fill a neighborhood.
About the Author
---
Wynton Marsalis, trumpeter, composer, and tireless champion of jazz, is the recipient of a Pulitzer Prize and the winner of nine Grammy Awards. The artistic director for the Jazz at Lincoln Center program, he lives in New York City.

Paul Rogers has created everything from billboard portraits at Dodger Stadium to a silkscreen portrait of Wynton Marsalis for the New Orleans Jazz and Heritage Festival. He lives in Pasadena, California.
Praise For…
---
Rogers's pictures recall the delightful Hirschfeld tribute in the "Rhapsody in Blue" segment of Disney's "Fantasia 2000" — kicky lines and outlines in a whirl of motion. "I huz- huzz- huzzz a kazoo when I gets the mood," the young narrator exults. Readers will huzz right along.
—New York Times

Onomatopoeic words will challenge readers and delight listeners . . . Rogers' hip, playfully cartoonish spreads pop with clever visual allusions to jazz tunes and players. Loud and clear, the creators show how tuning into everyday sounds can inspire music. Clap, clap, CLAP!
—Kirkus Reviews (starred review)

Warm up those vocal chops and get ready for the swingingest read-aloud of the year.
—Booklist (starred review)

This exuberant articulation of sounds both subtle and grandiose is sure to inspire closer listening and creative responses.
—School Library Journal (starred review)

Booklist called it "the swingingest read-aloud of the year." School Library Journal made it a "pick of the day." We suspect that a lot of New Orleans Santas will be making this one a pick of the day, too.
—NOLA.com (Times-Picayune)