Surf's Up (Hardcover)
Book listings on our website do not always reflect the current availability of books on our store shelves. Check a book's in-store availability beneath the "add to cart" button. Or to be certain that a book you've found on our website is also here on our shelves, feel free to call us at 615-953-2243.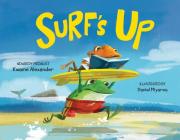 Description
---
Surf's up Not yet, Dude Books are boring Not this one Bro and Dude have very different ideas about how to spend the day at the beach. But as Bro continues to gasp and cheer as he reads his book (Moby Dick), Dude can't help but get curious. Before you can shout 'Surf's up ' both frogs are sharing the same adventure, that is, until they get to the beach. Newbery Medal Winner, Kwame Alexander, and Daniel Miyares have joined forces to give little listeners a wild ride.
About the Author
---
Kwame Alexander is a poet, author of 18 books, and recipient of the 2015 Newbery Medal for his novel, THE CROSSOVER. The founder of two literacy organizations: Book-in-a-Day and LEAP for Ghana, he regularly travels the world conducting writing/publishing