Donde Viven Los Monstruos (Historias Para Dormir) (Paperback)
Book listings on our website do not always reflect the current availability of books on our store shelves. Check a book's in-store availability beneath the "add to cart" button. Or to be certain that a book you've found on our website is also here on our shelves, feel free to call us at 615-953-2243.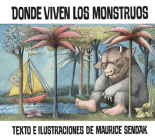 $8.95
Usually Ships in 1-5 Days
Description
---
Donde viven los monstruos tiene cincuenta a os de publicaci n. Maurice Sendak ganador de la Medalla Caldecott por su libro de im genes se ha convertido en uno de los libros infantiles m's queridos y aclamados de todos los tiempos. Todo ni o debe tener una copia.
Las travesuras llevan a Max a su habitacion castigado y sin cenar. Encerrado entre esas cuatro paredes, imagina un viaje fantastico al pa's de los monstruos, donde se convertir en el rey. Un libro para aprender a domar monstruos (en este caso, de lo m's dulces y tiernos).
Este cl sico de la literatura infantil es ideal para los primeros lectores, quienes se veran identificados con Max, sus juegos, sus miedos y, su mundo.
Este ic nico historia ha inspirado una pel cula, una pera, y la imaginaci n de generaciones.