Sergeant Reckless: The True Story of the Little Horse Who Became a Hero (Hardcover)
Book listings on our website do not always reflect the current availability of books on our store shelves. Check a book's in-store availability beneath the "add to cart" button. Or to be certain that a book you've found on our website is also here on our shelves, feel free to call us at 615-953-2243.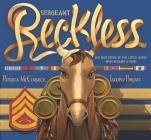 Description
---
The inspiring true story of Reckless, the brave little horse who became a Marine.
When a group of US Marines fighting in the Korean War found a bedraggled mare, they wondered if she could be trained to as a packhorse. They had no idea that the skinny, underfed horse had one of the biggest and bravest hearts they'd ever known. And one of the biggest appetites!
Soon Reckless showed herself more than willing to carry ammunition too heavy for the soldiers to haul. As cannons thundered and shells flew through the air, she marched into battle—again and again—becoming the only animal ever to officially hold military rank—becoming Sgt. Reckless—and receive two Purple Hearts.
This is the first picture book from award-winning novelist Patricia McCormick, sumptuously illustrated by acclaimed artist Iacopo Bruno.
Praise For…
---
★ "Vividly brings to life the story of Sergeant Reckless, the only animal to officially hold military rank in the United States. This endearing story of wartime camaraderie won't soon be forgotten."


★ "A rousing success. An engaging slice of history."

"[An] intriguing historical tale of an underdog. A warm human (and horse) interest story that feels fresh off a newsreel."

"Excellent. This well-illustrated war story will appeal to many, especially fans of Michael Morpurgo's War Horse. A strong selection."

"Engaging."

"A lively look at wartime animal heroism."

Praise for THE PLOT TO KILL HITLER: "Offers a lucid history of the rise of Nazi Germany and a dramatic account of one man's resistance to evil."

Praise for THE PLOT TO KILL HITLER: "[A] tragic, inspirational, and quite unusual tale of a man who was the moral center of a resistance movement that, though it failed, continues to live on in international memory."

Praise for THE PLOT TO KILL HITLER: "Readers will discover how compelling a story about ideas and ideals can be."

Praise for NEVER FALL DOWN: "One of the most inspiring and powerful books I've ever read. Never Fall Down can teach us all about finding the courage to speak our truth and change the world."

Praise for PURPLE HEART: "Timely and provocative thriller."

Praise for SOLD: "Hard-hitting ... poignant. The author beautifully balances the harshness of brothel life with the poignant relationships among its residents."

Praise for SOLD: "Unforgettable"

Praise for SOLD: "Searing...poetic."

Praise for CUT: "Poignant and compelling."

Praise for CUT: "This novel, like Laurie Halse Anderson's Speak, sympathetically and authentically renders the difficulties of giving voice to a very real sense of harm and powerlessness."

Praise for CUT: "McCormick tackles a side of mental illness that is rarely seen in young adult fiction in a believable and sensitive manner."

PRAISE FOR MESMERIZED: "A stylish and humorous exploration of the scientific method and the mysteries of the human mind."

PRAISE FOR MESMERIZED: "Brilliantly illustrated...stuffed with period detail and sweeping ribbons and curlicues."

Praise for MESMERIZED: "Awonderful and fun-filled title that introduces yet another facet of a fascinating man."

Praise for MESMERIZED: "For history buffs, science enthusiasts, and fans of a good story, this one hits all the marks."