Our October 2015 selection is: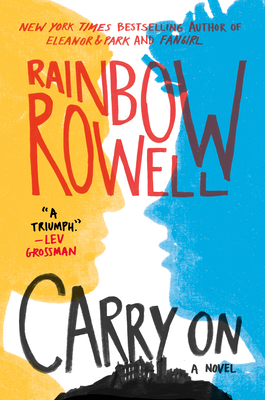 Carry On, by Rainbow Rowell
Our October selection, Rainbow Rowell's Carry On, really doesn't need an introduction. Rainbow arrived in the YA world in 2013 with not one but two incredible novels, Eleanor & Park (which received a Michael L. Printz Honor) and Fangirl. We have been waiting for her next YA book ever since.
Readers, it was worth the wait.
In Carry On, Rowell has achieved the impossible. She has written a fantasy novel that wears its affection for those other books about a boy wizard on its sleeve, yet succeeds in its very first pages in staking out its own claim to the tropes we love so much. Simon, Baz, Penny, Agatha, Ebb, The Mage, The Insidious Humdrum, even Watford itself -- Rowell knows we can't help but initially view her creations through the spectres of their Hogwartsian equivalents. Because Rowell isn't afraid to actively engage with the spirits of the stories that have come before, her story instead becomes an incredible mix of the familiar and the new.
Rowell's real brilliance, however, lies in her understanding not of what we love to read, but why we love to read it. In Fangirl, she showed us a character who had been completely enveloped by a fictional world, a character who lived, breathed, and wrote the world of Simon Snow. In Carry On, she's given us that world, and it's very quickly apparent why Cath loved it so much. Readers, I hope you fall in love with Simon Snow and the world of Carry On.
-- Stephanie Appell, Manager of Books for Young Readers
Membership Information
Here's how it works:
We will select a new young adult book each month, have the author sign first editions of the book, and send it to our club members. That's all there is to it! You can count on the following:
A signed, first edition book twelve times a year

Hand-picked titles recommended by Parnassus booksellers

We hope you love the books we choose, but if you don't, you can return a selection within two weeks of receiving it.

You will be charged the list price of the book, plus a $6.00 shipping charge if applicable.

Note: If you choose in-store pickup, we will hold your signed first edition for up to two weeks, after which time we will charge your account $6.00 and ship your book to you.
After you click submit, the form will appear to vanish. Please scroll to the top of the page to view your confirmation. You will also receive a confirmation email within a few days of signing up.
Previous Selections
If you'd like to see whether we have extra signed copies of any of these titles available for purchase, you may do so here.
2015 Selections
January
February
March
April
May
June
July
August
September
October
November
December
2014 Selections
| | | |
| --- | --- | --- |
| | | |
| January/February | March/April | May/June |
| | | |
| July/August | September/October | November/December |
2013 Selections
| | | |
| --- | --- | --- |
| | | |
| February/March | February/March | April/May |
| | | |
| June/July | September/October | November/December |