Parnassus Books is pleased to welcome Good Morning America News correspondent Linsey Davis for a discussion and signing of her new picture book, The World is Awake: A Celebration of Everyday Blessings on Friday, April 27 at 6:30pm. Read on for more information about the event, the book, and the author!
Event Guidelines
This event is free and open to the public. To join the signing line and have books signed by the author at this event, please consider purchasing The World is Awake from Parnassus Books. By purchasing a book from Parnassus, you are not only supporting a locally owned, independent business, but you are also showing publishers that they should continue sending authors to Parnassus.
Video recording, audio recording, and/or live-streaming during author appearances and signings is not possible without prior written permission from the publisher and Parnassus Books.
Can't make it to the event, but still want to purchase an autographed or personalized book? Place your order below, enter "signed copy" plus any personalization details in the comments section of your order, and we'll have the author sign your books and ship them to you after the event!
More about The World is Awake
This is the day the Lord has made.
A butterfly floats through the sun and the shade,
while dragonflies flit past the flowers and trees
and grasshoppers hop in the soft morning breeze.
The World is Awake: A Celebration of Everyday Blessings is a lyrical, rhyming story for young children intended to make them feel safe and joyful, cradled in the hands of God. Paired with bright and engaging illustrations by Lucy Fleming, this book inspires children to be thankful for all of God's blessings that surround us in our daily lives. From the nature in our own backyard to the animals at the zoo, The World is Awake is a celebration of God's wonderful world.
More about Linsey Davis
Linsey Davis joined ABC News in 2007. She is a correspondent filing reports for World News, Good Morning America, 20/20 and Nightline. She has received several honors for her reporting, including two Emmy Awards and a regional Edward R. Murrow Award. Davis earned her undergraduate degree in psychology from the University of Virginia and a master of arts degree in communications from New York University. The World is Awake: A Celebration of Everyday Blessings is her first book.
Event date:
Friday, April 27, 2018 - 6:30pm
Event address:
Parnassus Books
3900 Hillsboro Pike, Suite 14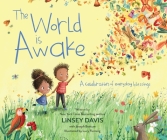 $17.99
ISBN: 9780310762034
Availability: On Our Shelves Now
Published: Zonderkidz - February 27th, 2018
---